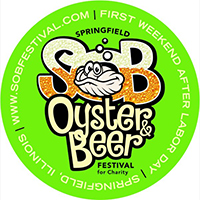 Coasters are the perfect promotional swag gift that can be distributed to all your festival participants, sponsors and contributors.
Generate Brand Recognition with High-Quality Customized Drink Coasters
Compliment your marketing and advertising campaigns by incorporating coasters into your event. The great thing about high-quality durable pulpboard coasters is that their long-life expectancy lasts not only the length of your event, but long after providing great exposure pre event, during and post event.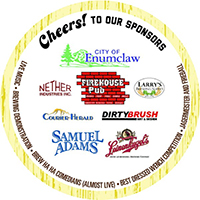 A drink coaster used for branded placement, as a giveaway or souvenir, can reach hundreds and sometimes thousands of impressions each.
Coasters with your Festival logo prominently imprinted provide unprecedented exposure. Boost your sponsorship benefits sales package by offering title sponsors additional logo placements on your Coasters! Your most important featured and titled sponsors will love it.
Although we can't attend every festival/event, Coaster Factory is proud to help contribute to the vitality of cultural life. From time-to-time we provide full-color printed coasters as in-kind contribution (or shared cost) for all kinds of great Festivals throughout the country.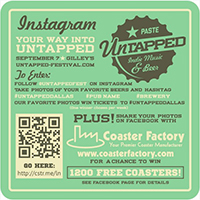 We have worked with many festivals over the years:
Beer Festivals
Wine Festivals
Music Festivals
Film Festivals
Food Festivals
Theatre and ART Festivals
Autumn, Winter, Spring and SUMMER Festivals
...and many more...
Get your message out with branded messaging on Coasters!
Put our beer coasters to work for YOU!
Beer coasters can serve as a subtle or high impact targeted form of advertising. Advertising on beer coasters is a cost effective way to promote your festival or special event. Beer coasters as an advertising vehicle has been tried and tested for many decades and has been a real success for many businesses. Coasters are also popular collectible and serve well as unique promotional gifts that are always appreciated by many people.
Coasters as a giveaway or souvenir at your event ensures your branded message will be seen by many. Coasters can reach hundreds and sometimes thousands of impressions.
Value Pack Coasters are a cost-effective and flexible solution for co-branding your Festival event.
Contact us for more info and find out how to get coasters working for you at your next event.